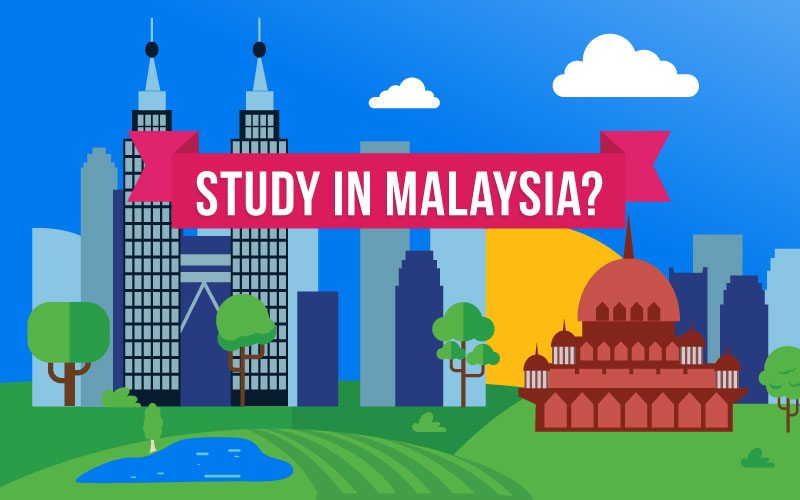 Interested to Study in Malaysia? Then you have come to the right place! Wherever you are from, we can help you find the best colleges or universities in Malaysia.
A Quick Intro to Malaysia
Malaysia is a vibrant country with more than 30 million people, located in the centre of Southeast Asia. Being diverse in culture with plenty of natural resources, the country offers beautiful beaches, unique festivals, and delicious cuisine. For sure you wouldn't want to miss that!
Malaysia's rich culture - due to the major and minor ethnicities living in the country - is one of the main reasons why it is one of the best destinations for those who want to study abroad.
As of 2019, there are 130,110 international students in Malaysia from 136 countries, mainly in Asia, Europe, the Middle East and Africa [Free Malaysia Today]. The cost of living is also lower as compared to other countries - with a wide variety of foods, accommodation and recreational activities you can do.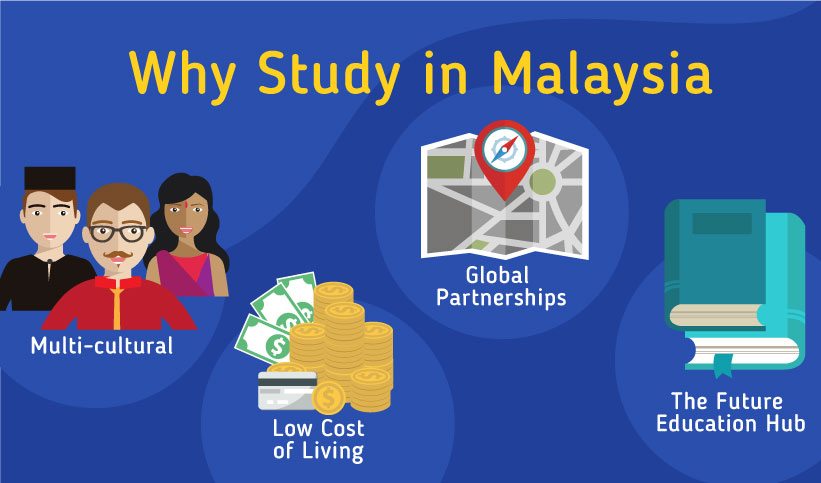 Further to that, the government's ultimate goal to make the country a major education hub in the region is well on its way. Aside from the world-class home-grown universities, Malaysia also has foreign university branches.
This means you can get a more affordable, but still a top-notch education when you study in Malaysia.
Universities and Colleges in Malaysia
The higher education system in Malaysia is improving every year and boasts top colleges and universities. Most of them have been recognised not just locally, but also abroad.

EasyUni has made it easy for you, view here to see a list of universities and colleges in Malaysia. [https://www.easyuni.com/malaysia/all/all/all-levels/]

To put together this list, we referred to both the internationally-recognised QS World University Rankings and the prestigious Malaysian rating system, SETARA.
Top Universities in Malaysia according to QS World University Rankings 2021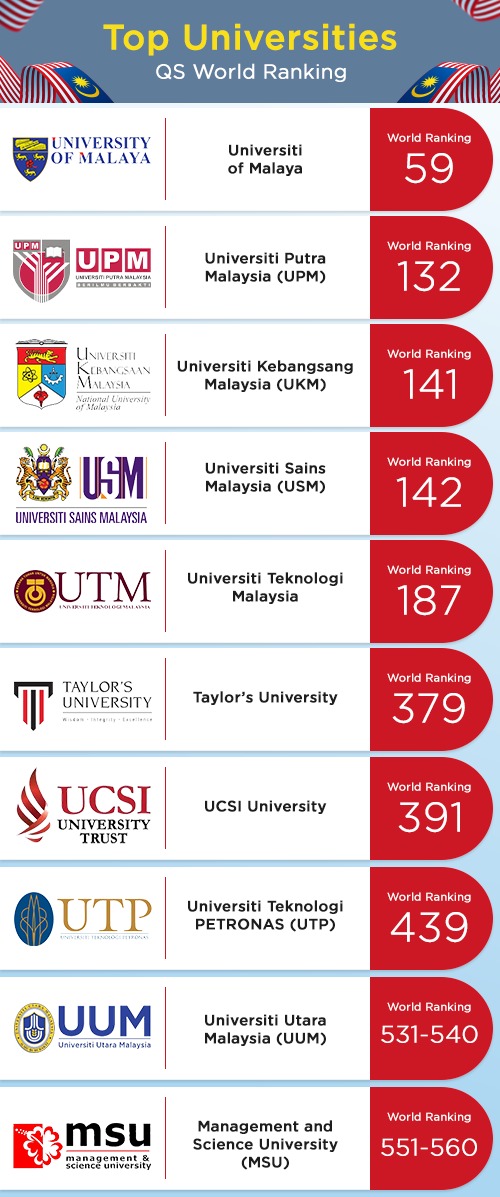 Applying to study in Malaysia
A. Language Requirements
Should you wish to study in Malaysia, you must be able to speak English as courses will be taught in this language. Some universities also require you to take an English proficiency test like TOEFL or IETLS, which you can take in your home country.
Take Note!
Don't worry if your English is not so good yet. Most colleges in Malaysia offer English proficiency classes to improve your English further. Besides, there is no better way to learn a language than to be surrounded by English speakers at your Malaysian University.
Universities in Malaysia generally do not require international students to make any admission tests. You can apply using your high school diploma/certificate and recommendation letter.
B. Visa Requirements
There are a few more things you have to take care of to become a student in Malaysia. To enter Malaysia as an international student, you must first choose a course and institution you would like to study in Malaysia. Their requirements vary, so be sure to check first before you apply.
Your University is required to submit some relevant documents to apply for your Student Pass. The documents they will request are:
An official letter of acceptance from your University
A filled-in Student Application form
Three photos of you, passport-sized
Two photocopies of your passport
A copy of your medical health examination report
Once your application to study at the university is accepted, the university will apply for a student pass for you. The immigration will look at this application and will send you a Student Pass approval letter.

With this letter, you are ready to get on a plane towards Malaysia, but before you send your university the details of your flight, the immigration department will also issue you a Special Pass which you need to receive your Student Pass. Within two weeks after arrival, you can visit the nearest Immigration Department to receive your Student Pass.

This might all seem a bit complicated, but don't worry, your university will guide you through this whole process and make sure you will not miss any steps.
Tuition Fees
Choosing Malaysia's Education system is a top choice which many international students have made before you as universities in Malaysia are reputable, and tuition fees are low.
For most international students, tuition fees are the biggest concern. To give you a general idea of the tuition fees of Malaysian Universities you can see the ranges per level below.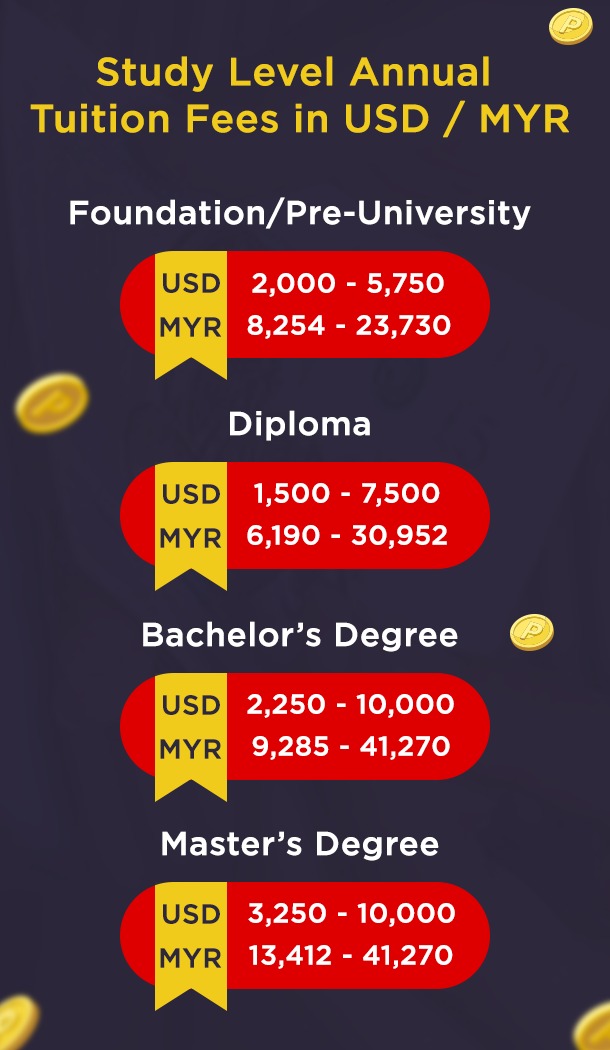 Our only goal is to help you find the study and university which fits you best, look around at our website and compare universities and courses with each other and apply for more information. To continue your future studies abroad is a big step, we know that all too well, that is why we are here to help you with this process. You, too, can study in Malaysia!
Cost of Living in Malaysia
Malaysia as you know it, is home to one of the most affordable student city in the world. This is the reason why the number of international students in Malaysia are growing tremenduously. Refer to the table below for more informaion: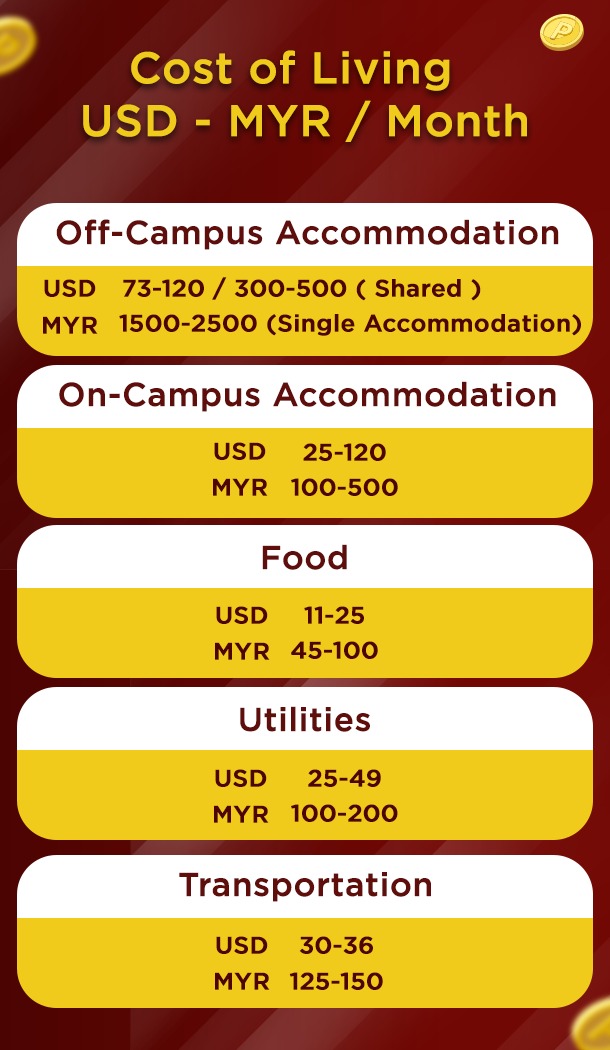 After Graduation Opportunities in Malaysia
Based on the table above, on average you will need around USD 800 to live comfortably in Malaysia. In fact this number can be much lower depending on your lifestyle.
Done with your studies, but don't want to leave Malaysia? Yup, we feel you! Should you wish to work in Malaysia, you can apply for a job to obtain your work permit.

As long as you have the qualifications, you can apply for a job in Malaysia. Once your application is approved, your employer will then apply a visa for you to legally work in the country.

The available working visas are Employment Pass, Temporary Employment Pass, and Visitor's Pass (Professional). The lengths of each of these options do vary, from six months up to around five years, as do the terms and conditions so be sure to check your eligibility.
Frequently Asked Questions (FAQs)
Can international students work in Malaysia during their studies?
Yes, but there are certain restrictions to it. International students can only work a maximum of 20 hours per week only during semester breaks or long holidays of more than 7 days.
As an international student, can I work in Malaysia after graduation?
Yes, but you will need a work visa and this is usually sponsored by your employer.
Read up more about Malaysia, below:
Ready to apply to study in Malaysia?