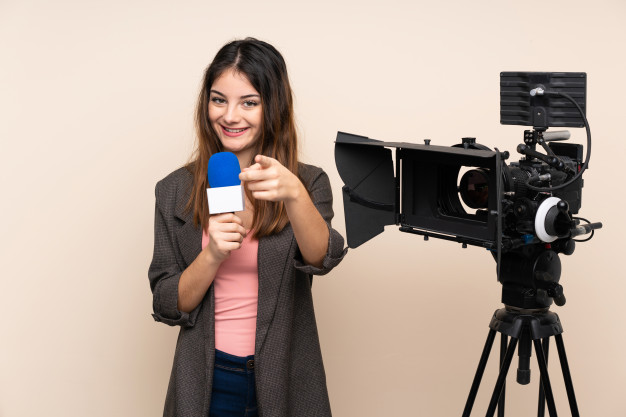 Categorised under the field of Mass Communication and Media, journalism is considered as one of the popular majors taken by students in Malaysia.
With the rising popularity, many best universities in Malaysia now offer journalism courses with diverse specialisations.
What is journalism all about?
Journalism is basically an activity of producing and distributing reports about an event and is usually carried out by journalists.
Journalistic concepts and principles in each country differ in policy; in some countries, the media are controlled by the government, and in other countries, the media are private property.
What makes journalism different from other majors is that graduates will carry along the journalistic principles upon graduation to apply in their career.
What are the ideal characteristics for this course?
Here are some important characteristics you need to have to be a journalism student:
1. Honesty
Honesty is the most important characteristic a journalist should have. As a journalist, you must hold fast to honesty because spreading lies through journalism is going to do injustice to the media and not to mention, unethical.
2. Neutral
In exploring and producing news based on an event, you must be able to find a middle ground; you need to inform the incident or occurrence without taking sides.
3. Determination
You are bound to encounter sensitive issues that may go against your beliefs, and it is your duty to prioritize your responsibilities as an unbiased journalist.
4. Open-minded
Being open-minded makes you an ideal journalist. While covering an issue, you must put aside any stereotypes and stigmatisation and report an event as it is.
Why should you study journalism?
1. Work on your English writing skills
Most journalism courses in Malaysia are taught in English. You will be able to polish your writing skills, which is an added point if you aim for a long-term career in writing.
2. Gain a broader scope of the world
As a journalist, you must research topics that not only affect Malaysia, but the world. This widens your understanding of current trends which in turn increases your knowledge on global issues.
3. Understand how media law works in Malaysia
Journalism has its own set of rules regardless of country. Studying journalism in Malaysia exposes you to media law in which you can turn into a specialisation sought by media and news companies.
What kind of subjects are taught in journalism?
Below are some of the subjects structured by University Tunku Abdul Rahman (UTAR) that students will study over the course of 3 years:
Year 1
Desktop Publishing
English for Mass Communication
Entrepreneurship
Introduction to Advertising
Introduction to Mass Communication
Introduction to Political Science
Introduction to Video Production & Editing
Journalism Studies
Multimedia Journalism
National Language/Other Languages
News Reporting and Writing
Photojournalism
Sun Zi's Art of War and Business Strategies
Year 2
Advanced News Reporting and Writing
Broadcast Journalism
Business Journalism
Co-curriculum
Communication Research Methods
Communication Theories
Digital Communication Technology
Feature Writing
Introduction to Sociology
Year 3
Elective I
Final Year Project I
Final Year Project II
Industrial Training
Media Law and Ethics
Media Management
Politics and The Media
How long will the programme take?
The duration of studies depends on each university, but here's a rough estimate:
| | |
| --- | --- |
| Course Level | Course Length |
| Diploma Courses | 1-2 years |
| Undergraduate Courses | 3-4 years |
| Master Courses | 1-2 years |
What are the entry requirements?
Here is a brief overview of the typical entry requirements you need to meet per level of study:
Foundation
5 credits including English in SPM or equivalent
Diploma
3 to 5 credits including English in SPM or equivalent, or
At least 1 Principal Pass in STPM or equivalent, or
Certificate in relevant field
Bachelor's degree
5 credits in SPM or equivalent, and
Minimum CGPA of 2.00 or 2 Principal Passes in STPM or equivalent, or
Foundation or Diploma in related field (usually with minimum CGPA of 2.00)
Master's degree
Bachelor's degree or equivalent in relevant field
Working experience may be required if the Bachelor's degree is not an Honours degree
Some institutions may ask for a portfolio of your work (especially if you want to specialize in an area like visual communication)
Doctorate
Master's degree or equivalent in related field, or
First Class Honours Bachelor's degree with excellent CGPA of at least 3.70 (for direct Bachelor to PhD students)
How much are the tuition fees for a journalism course in Malaysia?
Here are the estimated fees:
| | |
| --- | --- |
| Study level | Estimated Fees (per year) |
| Foundation | < RM30,000 |
| Diploma | RM20,000 - RM50,000 |
| Bachelor's Degree | RM50,000 - RM100,000 |
What are the job prospects for journalism graduates?
A journalism graduate can work anywhere, such as newspaper offices, magazines, TV station publications, radio and many more.
In their assignment, journalists need to attend various events and meetings, conduct interviews, and consult with experts. The following are selected career paths in journalism:
Broadcast journalist
Magazine journalist
Press Editor
Editor
Newspaper journalist
Content writer
Reporter
The table below showcases the expected salary of different journalism positions/levels in Malaysia according to PayScale:
| | |
| --- | --- |
| Occupation | Estimated Salary |
| Journalist | RM 43,425 per year |
| Content Writer | RM 32,355 per year |
| Copywriter | RM 41,298 per year |
| Editor | RM 35,819 per year |
| Content Manager | RM 49,194 per year |
Best Universities in Malaysia that Offer Journalism Programmes
Now, after you understand all the information above, below are the universities in Malaysia that offer journalism course: