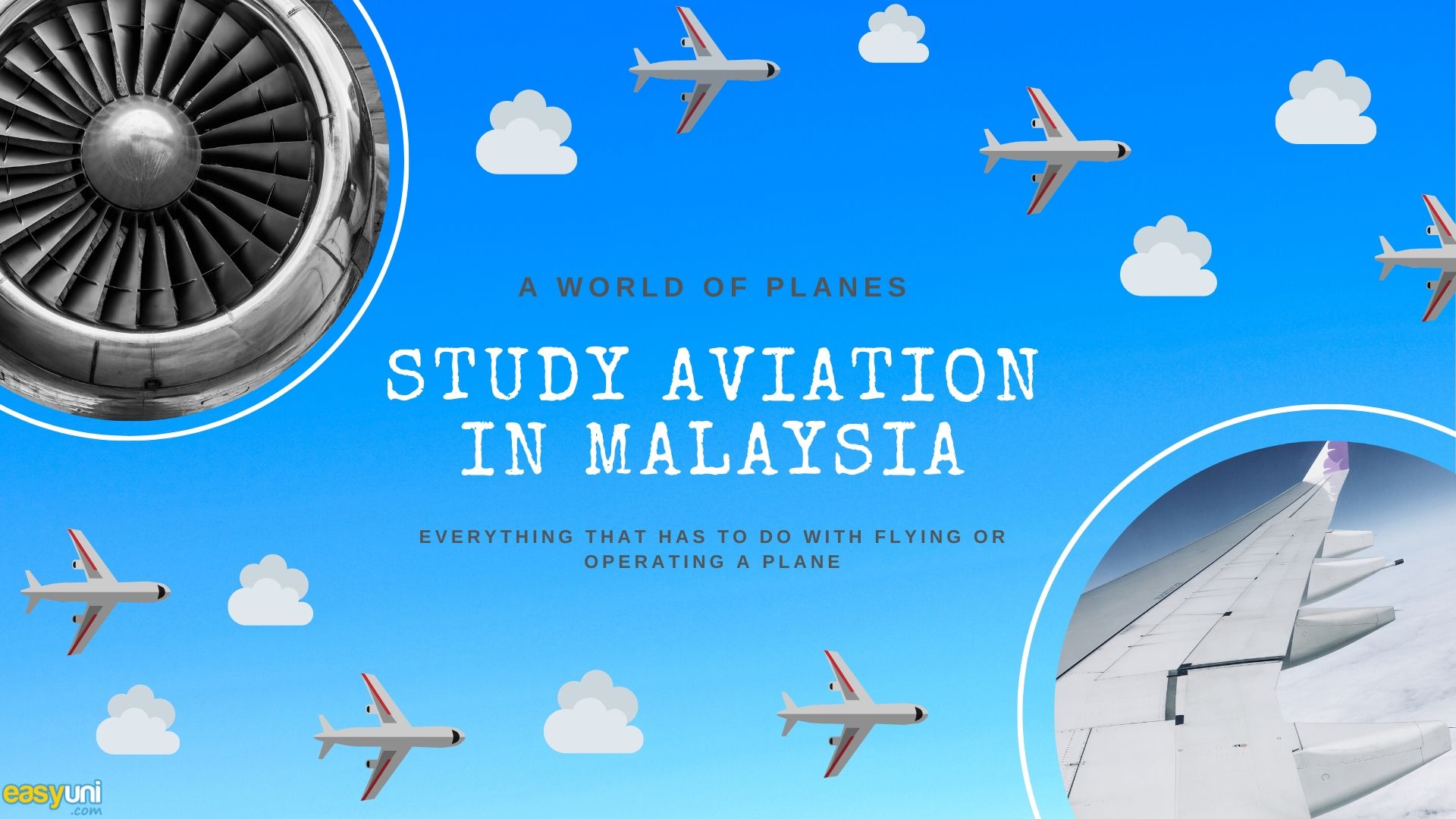 Aviation, or air transport, covers a range of activities and industries associated with flying or operating a plane.
There are primarily two types of aircraft operation, which are civil aviation and military aviation.
Let's take a look at these two types of aviation.
a) Civil Aviation
In civil aviation, flights and aircraft are used to transport goods or passengers. It is for personal and business purposes rather than military purposes. Civil aviation has two major categories, which are scheduled air transport and general aviation.
Schedule air transport is solely for either commercial and business purposes.
While general aviation can be either commercial or private, and is utilized for personal purposes.
b) Military Aviation
Military aviation plays a key role in conducting or enabling aerial warfare using flying machines, including military aircraft. In Malaysia, the Royal Malaysian Air Force (Tentera Udara Diraja Malaysia or TUDM) is responsible for the Army Aviation unit. It plays a significant role in safeguarding the nation's airspace.
TUDM carries out operations such as offensive airstrikes, defensive counter-air, and defensive suppressive, which are essential for national security. Additionally, TUDM is also responsible for air combat rescues, which further reinforces their commitment to protecting the country's citizens.
Where can I study Aviation Programmes in Malaysia?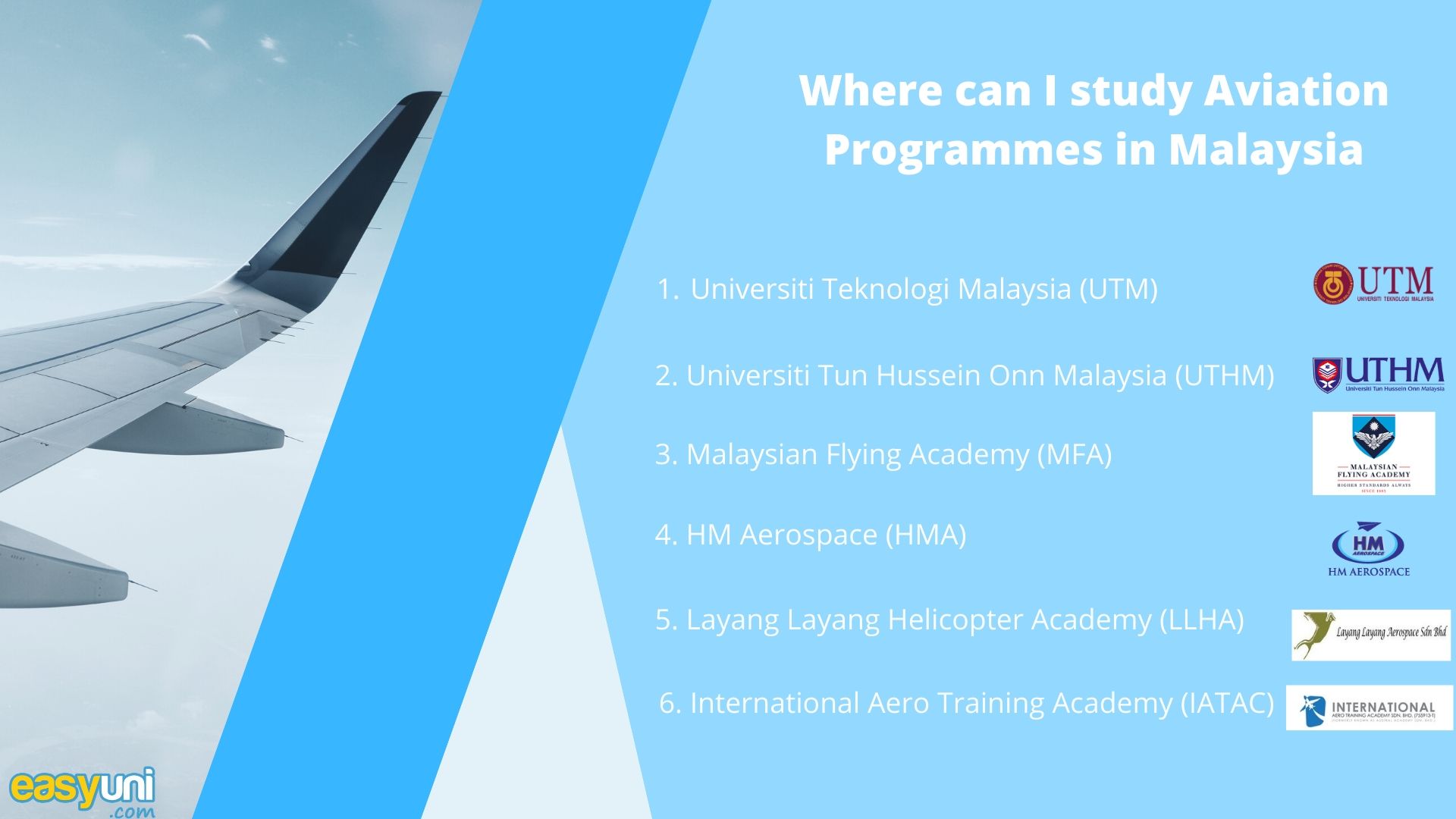 Civil Aviation
As a renowned public research university in Malaysia, UTM is well-known for its engineering courses. The Aeronautical Engineering program is a specialization of Mechanical Engineering. The course covers aerodynamics, aircraft structure, flight dynamics and control, propulsion, and aircraft design. The course includes a 12-week industrial placement during the semester break. It ensures that the graduates of this program are exposed to the industrial needs and experience and achieve the requirements to graduate in this field.
UTHM is one of Malaysia's few public universities offering an aviation bachelor's degree. The program concentrates on aeronautical engineering technology to provide substantial knowledge and skills for future engineers in the aviation field. The university offers two aviation courses:
Upon completion, students will be equipped with theoretical and practical knowledge in aviation to obtain an Airline Transport Pilot License (ATPL) or Aircraft Maintenance Engineer License (AMEL).
Visit their website for more information on the minimum intake requirements.
Due to the constantly changing nature of the industry, MFA continues to engage with airlines and industry specialists to introduce improvements in the syllabus offered. The courses offered by MFA are accredited by the International Civil Aviation Organisation (ICAO) and the CAAM. The maximum number of cadets accepted into MFA per batch is 20 cadets, following the strict requirements of the CAAM.
The MFA does not offer diploma or degree programs. Instead, they offer courses such as:
Private Pilot's License (PPL)
Commercial Pilot's License (CPL)
Airline Transport Pilot's License (ATPL)
Assistant Flying Instructor License (AFI)
HM Aerospace is a flight training academy under the Halim Mazmim Group. Malaysia Airlines (MAS) selected it as one of its preferred training centers for its cadets. The training center of HMA is located in Pulau Langkawi, right next to the Langkawi International Airport.
LLHA is one of the few flight training academies in Sabah. The academy owns various training aircraft like Cessna 172 Skyhawk, Bell 206, and Eurocopter AS 355 to provide students with the best resources. LLHA also continuously engages with industry specialists, and the CAAM accredits its courses. LLHA offers complete training for Fixed Wing and Rotary Wing, holding both ATPL and PPL and CPL licenses.
IATAC is located in Melaka, ideal for flight training with its low-lying terrain. To help cadets pass the Theoretical Knowledge Exam conducted by the United Kingdom Civil Aviation Authority, IATAC provides the most up-to-date Computer-based Training (CBT), giving cadets a better advantage to pass the exam and enjoy higher employment prospects. IATAC offers pilot training courses like CPL, Abridge Course, and Flight Simulator Training.
Military Aviation
If you would like to join The Malaysian Army Aviation, the application can be made through the application portal of The Malaysian Army. Recruits will be offered to join The Malaysia Army Aviation as young soldiers of the Air Force. They will need to report themselves to undergo training based on their locations.
Peninsular Malaysia: Akademi Tentera Udara, Ipoh
Sabah: Terminal Feri Labuan
Sarawak: TUDM, Kuching
Recruits who pass the selection will have to undergo training for 6 months before they are assigned to a position as a member of The Royal Malaysian Air Force (TUDM).
What are the career opportunities?
Some organisations that seek aviation graduates include Malaysia Airline System, AirAsia, AIROD, SME Aviation, Malaysia Helicopter Services (MHS), TLDM and PDRM Air Unit.
Besides, TUDM also requires aviation talents to operate, maintain, repair, oversee and manage different types of aircraft.
Commercial Pilot: A commercial pilot needs to have a CPL and ATPL to be a professional pilot who can be paid to fly.
Aeronautical Engineer: Aeronautical engineers work with aircraft. They are involved primarily in designing aircraft and propulsion systems. They also study the aerodynamic performance of an aircraft and construction materials.
Air Traffic Controller: An air traffic controller requires rapid decision making. The job of an air traffic controller is to prevent collision between aircraft in the air and on the land and maintain an orderly flow of air traffic.
Airport Operation Manager: The airport operation manager oversees all aspects of business management, economics, public relations and personnel management of an airport.
Aircraft Maintenance Technician: An aircraft maintenance technician is responsible for the safety of the aircraft by diagnosing, replacing and repairing aircraft parts, mechanical problems and electrical problems.
What Do I Need To Fly An Aircraft?
To fly an aircraft, an individual must possess a pilot license. Let's learn more about each of them.
1. Private Pilot's License (PPL)
PPL is an entry-level course that equips cadets with the basic skills to pilot a single piston-engine aircraft confidently.
The flight training includes 45 hours of flying and 100 hours of ground school.
Entry requirement:
Minimum age of 17.
Able to read, write, and communicate in English.
Meet Class 2 medical requirements.
Pass theoretical knowledge examinations and skill tests (by a CAAM-approved Flight Training Organization).
Estimated cost: RM60,000 (3 months).
Meet all the regulatory licensing requirements.
2. Commercial Pilot's License (CPL)
CPL cadets are trained with the basic skills to fly a commercial aircraft.
As for this license, candidates will be evaluated under the Civil Aviation Authority Malaysia guidelines upon completing over 20 months with a minimum of 200 hours of flying experience.
Entry requirement:
Minimum age of 17.
Fluent in the English Language.
5 credits (including English, Mathematics, and Science) in SPM/O-level/Equivalent
A valid Malaysian Class 1 Aircrew Medical Certificate.
Letter of approval from the CAAM
Estimated cost: RM398,000.
3. Airline Transport Pilot's License (ATPL)
ATPL is a complementary course for cadets with an existing CPL.
This course involves 165 flying hours on a single-engine aeroplane and 35 flying hours on a twin-engine over 20 months.
Entry requirement:
Fluent in the English Language.
Existing and valid CPL.
A valid Malaysian Class 1 Aircrew Medical Certificate.
Letter of approval from the CAAM.
Estimated cost: RM360,400.
4. Assistant Flying Instructor License (AFI)
AFI is a course designed for trained pilots to become qualified flying instructors.
To complete this course, candidates must fulfill the training syllabus requirements by completing a minimum of 125 hours, as outlined in the CAD and CAGM guidelines.
Entry requirement:
Minimum age of 21 years old.
Letter of approval from the Civil Aviation Authority of Malaysia.
Existing and valid Malaysian Commercial Pilot License / Instrument Rating (Aeroplane).
A minimum of 200 flying hours on aircraft before the commencement of the course.
Pass the medical examination Class 1 from a CAAM Designated Medical Examiner.
Fluent in the English language (Level 4 is acceptable).
Aviation Courses: Head's Up!
The aviation program may seem like a unique and exciting course. Unlike the more common courses such as business, finance, or engineering in Malaysia, it offers a distinct quality.
However, pursuing the aviation program can be a costly learning journey.
The expensive cost of the aviation program is both literal and metaphorical.
It is due to several factors, such as technological advancements, infrastructure, faculty expertise, and more. Therefore, if you are interested in this course, consider the education fees and future carefully.
You may have been inspired by a famous Hollywood movie featuring Tom Cruise.
However, it is important to focus on the education journey rather than the end goal of a job.
Before you secure a job, you need to complete your aviation study. It includes flight training (for flight programs), obtaining a certificate, hands-on training, and more.
Hence, it is crucial to reconsider the entire process and not just the final outcome.