Have you ever watched Suits or Law and Order? Loved Legally Blonde? The legal profession is an interesting one as depicted by those works of fiction (albeit dramatized). So now you think you want to a be a lawyer…well, it's not as easy or glamorous as popular television shows—like Ally McBeal and Law & Order—portray.
Why Should You Study Law?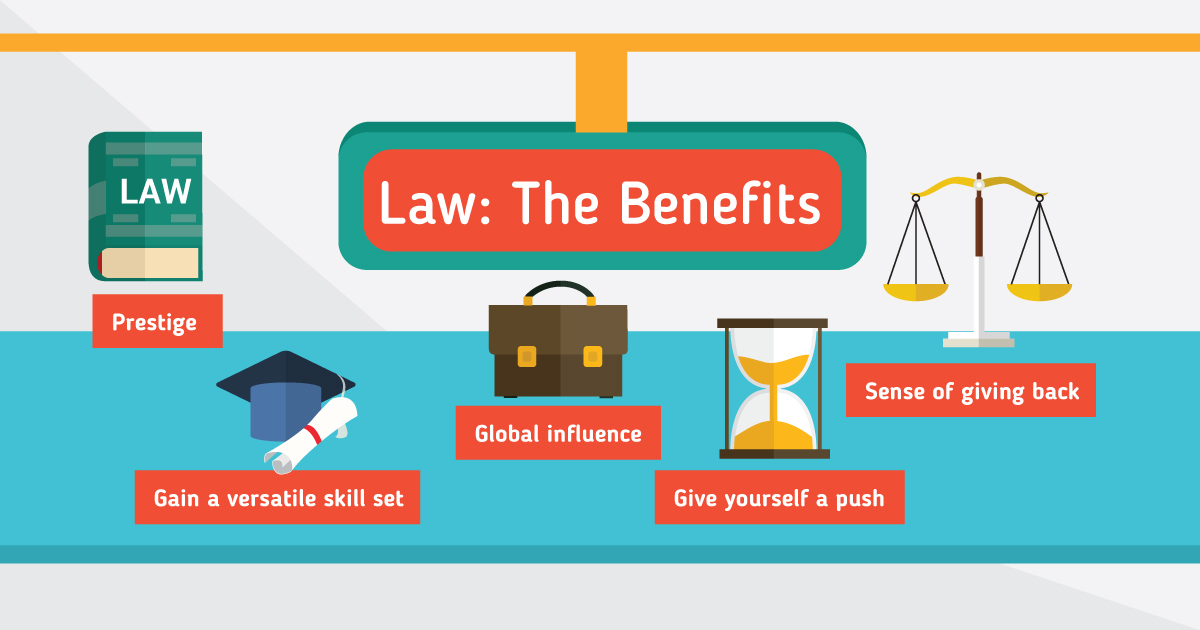 1. Prestige
For generations, a lawyer has been seen as an attractive career and a hallmark of prestige. Amazing degrees from well-known universities, big fat paychecks, and an authority over others have allowed lawyers to enjoy a unique professional status and a glamorous image.
2. Opportunity to Help Others
Many lawyers do amazing work defending the innocent and helping the low-income civilisation. But this is not always the reality, especially at the larger commercial firms, where the clients are typically big, faceless corporations.
3. Intellectual Challenge
Working as a lawyer is one of the most intellectually rewarding jobs on the planet. You get to help devising trial strategies to forming a multi-million dollar merger and solving problems. Intellectual thinkers are crucial to make it to the top.
4. Versatile Skills
Even if you don't practice law, a law degree can open doors to new opportunities and serve as a stepping stone to a new career. The immense skills you develop in university and as a lawyer can serve you well in many careers in any field.
5. Global Influence
Lawyers are in a unique position to affect societal change. For centuries, lawyers have stood at the center of society; they write the laws, rule the courts and hold influential positions in government. In these roles, lawyers are able to impact top policy makers and leaders and make a global change.
What Career Options Do You Have with a Law Degree?
Here are four career paths to consider:
1. Private Practice
Attaching yourself to a law firm is perhaps one of the more traditional career options. Starting out in a law firm, you will hold the position of Legal Assistant or Associate. You may be promoted to Senior Legal Assistant or Senior Associate after a few years of service. At smaller-sized law firms, you may be made a Partner at this point.
2. In-house Career
Alternatively, you could attach yourself to corporations. For instance, financial institutions, public-listed companies, and multinational organizations are some the companies that require a corporate lawyer. Possibilities include working in a corporation's legal department as a legal officer/ legal executive, a managerial position or even as the head of department.
3. Government Agencies
If the two previous routes do not seem appealing, perhaps serving in the Government tickles your fancy. There are many positions that you can apply for in the public sector. For example, the Attorney General's Chambers, Ministry of Foreign Affairs, Ministry of Home Affairs, and the Malaysian Anti-Corruption Commission, are just some of the agencies that can be joined.
4. Academia
If you are more academically inclined and feel that pedagogy and research is more your cup of tea, then academia where you should be. You can apply to be a lecturer in the law faculty of institutes of higher education. There, one can nurture the next generation of law students and play a part in the discovery of valuable aspects in the field through research.
What are the Different Field of Specializations?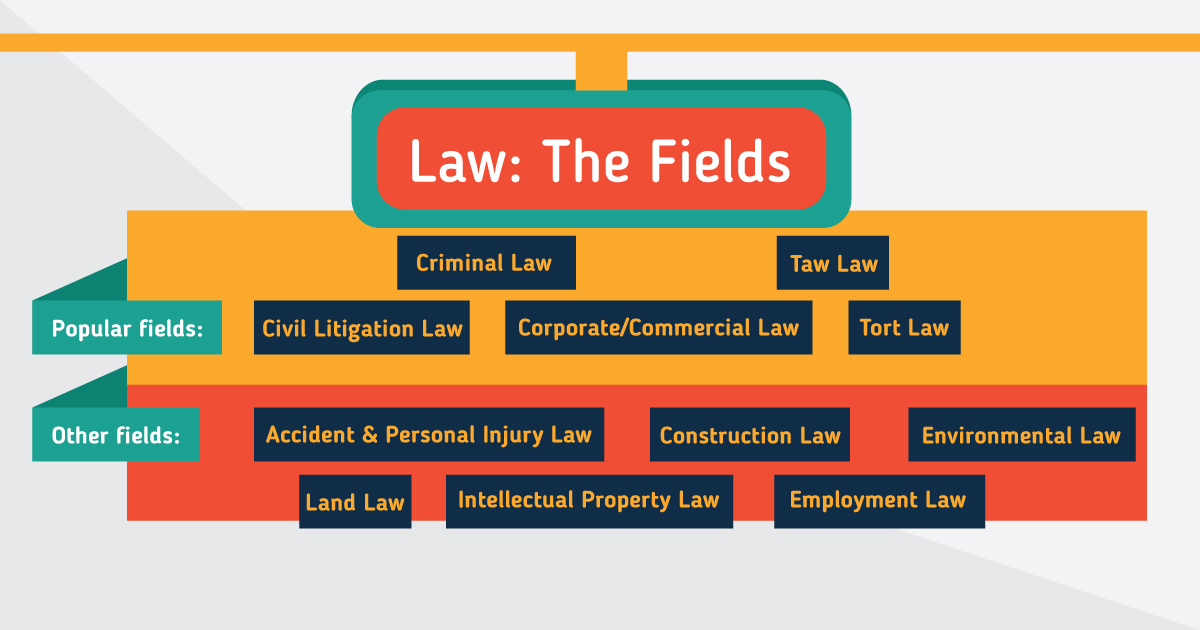 There are a many fields of specializations that you can pursue with a law degree; however, we'll cover the more popular ones below:
Criminal Law: Specializing in the defense of individuals and companies charged with crimes
Civil Litigation Law: A legal dispute that seek money damages or specific performance rather than criminal lawsuit
Tort Law: Specializes in lawsuits to compensate a grieving party for any damages or injuries suffered
Tax Law: Involves all legal matters regarding taxation on personal, commercial and governmental level and may include cross border legal issues as well
Corporate/Commercial Law: Provides legal advice and services to businesses of all types and sizes, including bankruptcy and insolvency, buying and selling businesses and other transactions
Several other common types of civil litigation include:
Accident & Personal Injury Law
Construction Law
Environmental Law
Employment Law
Intellectual Property Law
Land Law
Tips: Make sure your law programme is recognised by the Legal Profession Qualifying Board (LPQB).
How Long Is a Law Degree?
Want to know more about the steps needed to enter the law field? Well here are some pointers on how to begin chasing your dreams in the legal profession!
In addition to your STPM/ matriculation/ A-levels, you are looking at three years in a recognized public or private university in order to obtain a Bachelor of Laws/ LLB. After the completion of your undergraduate Law degree, you can proceed to take the Certificate in Legal Practice (CLP) exam that's approximately 9 months long. Once all required examinations are complete, you are required to participate in a 9-month pupilage before being allowed to practice as a lawyer officially.
What Qualities/Skills Do You Need to Study Law?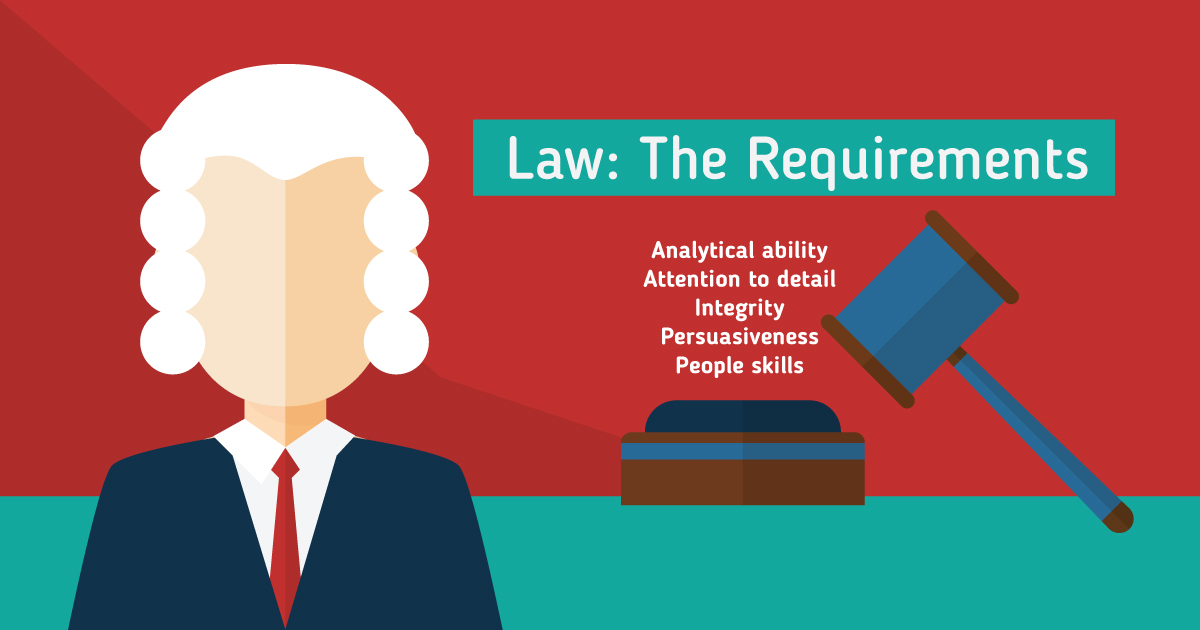 Analytical ability -

You need to be able to work your way around

case

and statute law to come up with arguments that fit the facts. This comes during your undergraduate degree as it teaches you to collate information and facts, and from there deduce possible resolutions to fit the case. It is also the sort of skill set you develop from any real-life situation where you have to understand a set of information, then think of every possibility and evaluate how well each would work.

Attention to detail -

The practice of law is a jungle filled with pockets of quicksand for the sloppy, lazy lawyer. When you draft contracts, a single word in the wrong place can change the emphasis of a clause and possibly the outcome for your client. You must pay strict attention to facts and details, for detail work is a significant aspect of the practice of law.

Integrity - Clients expect you to work to a high moral standard because they will only work with lawyers they trust. You have to always act in your clients' best interests; client confidentiality and professionalism are paramount to safeguarding the reputation and standards of the legal profession.
Persuasiveness - Since a lawyer's job is to solve problems, the key to success is the ability to convince others of the correctness of one's analysis of the factual problem, the requirements of the law, and the best result that can be reached for all concerned parties. You may be a genius, but it will be to no avail if others can not understand what you are saying.
People skills - It cannot be overstated that legal work is client-centric, and that no matter how good you may be at the work, you also need to be good at working with people! Lawyers would need to make new business, build relationships with opposing counsel, become trusted advisors to companies and organizations.
What is the Expected Salary?
Below you will find the salaries of a few jobs related to Law:
Attorney

Associate Attorney

Law Firm

Partner

Office Manager, Law firm

Entry level

US$ 79,000

US$ 73,000

US$ 125,000

US$ 42,000

Mid-career

US$ 112,000

US$ 98,000

US$ 169,000

US$ 51,000

Executive

US$ 146,000

US$ 106,000

US$ 202,000

US$ 57,000

Senior

US$ 160,000

US$ 122,000

US$ 250,000

US$ 66,000

(Source: Payscale)
Top 10 Law Schools
These are the Top 10 Law schools in the world according to the QS World University Rankings: