Business and Management is one of the most popular fields of study, teaching you everything you have to know about running a successful business in an organization. Ireland offers a lot of opportunities in this field with the warmest welcome that you cannot find anywhere else! Thus, studying Business and Management in Ireland is definitely popular among international students from all over the world. Business and Management is often a popular choice because of the opportunities it offers. Every company in every industry needs a business person to handle its daily operation. If you are interested to venture into this field, then you are on the right path! Read on to find out what Business and Management can offer you.
What is Business and Management all about?
The field of Business and Management include a wide range of focused and specific roles that are devoted to organizing, analyzing, and planning various types of business operations. In simple words, you will learn about how to run and sustain a business. However, depends on your disciplines in this field, the scope of business you will learn varied.
What are the major fields in Business and Management?
In Business and Management, there is a wide range of knowledge to be acquired in order to run a business. Below are a few of the disciplines you can learn:
Business Administration
In business administration, you can learn to make complex business decisions with management and analysis skills. This major will teach you on how to supervise and oversee business operation with the combination of knowledge from marketing, finance, project management and accounting.
Marketing
There is art in marketing a product. You will learn the secret behind the successful marketing of popular brands like Nike, Starbucks and McDonald's. The sales of the product basically rely on how well marketing is to attract and retain customers!
Finance
A degree in finance will prepare you for a career in areas such as commercial banking, financial planning, investment banking and money managing. You will be able to project future growth and analyze expenditure in order to strategize and control finances.
Human Resource Management
Quite different from running a business, in Human Resource Management, you will learn about talent acquisition and people management. Organizations rely on you to source for the experts and employees they need. Because of that, you get to screen resume and interview people for the available vacancy!
Accounting
Studying accounting allows you to help organizations to protect and grow their money in safe, legal ways. Accountants are also responsible for tracking and reporting financial information, which is crucial to every kind of business so accountants fill a vital role for pretty much every industry.
What are the entry requirement and qualifications?
The entry requirement and qualifications for different institutions in Ireland varied. Make sure that you check on the official portal of your desired institutions before applying. The Sijil Pelajaran Malaysia (SPM) is not accepted for direct entry to universities in Ireland. A foundation course in Ireland is definitely a good start for your journey in Ireland. Non-native English speakers can provide evidence of ability via one of the following qualifications:
Irish Leaving Certificate in English
GCSE English Language
University of Cambridge – Use of English Examination
TOEFL
IELTS
Cambridge Proficiency
Cambridge Advanced
ARELS oral examination
ETAPP
PTE Academic
Below is the general minimum requirement to study a foundation course in Ireland:
Academic
Successful completion of Sijil Pelajaran Malaysia (SPM), with an aggregate of 25-30 in the five best subjects,
OR
4-5 subjects at IGCSE with grades A-C.
English
IELTS 5.0; TOEFL iBT 60+; Pearson PTE 45
OR
Other related English test results
Age
Minimum 17 years old at the start of course.
Students who do not meet the minimum requirement of English may be asked to study a short English course before starting the university foundation course.
What are the job opportunities?
In the field of business and management, you can explore different industries in the private sector or government agencies. The demand for professionals with the background of business and management is always high. Other than being an entrepreneur and running your own business, here is a list of professions you can be after graduating in this field:
Universities in Ireland that offer Business and Management programmes
Ireland has nine prestigious universities and 15 technological institutes that welcome around 35,000 international students from 161 countries every year. See the list below for universities in Ireland that offer Business and Management:
University College Dublin (UCD)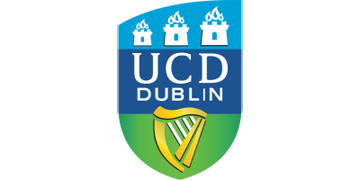 University College Dublin founded in 1854, is ranked within the top 1% of higher education institutions worldwide, has become Ireland's global university. University College Dublin is one of Europe's leading research-intensive universities.University College Dublin is also Ireland's most globally engaged university with over 30,000 students drawn from over 139 countries. This institution offers plenty of business related degrees like economics, finance, commerce and actuarial studies.
Trinity College Dublin

Trinity College Dublin is recognised for academic excellence and a transformative student experience, that home talented inquiring minds.It is ranked 98th in the world in QS World University Rankings 2023.Trinity College Dublin has over 200 societies, sports club and publications, making student life extremely diverse and exciting.In the school of Arts, Humanities and Social Sciences, Trinity College Dublin provides the degree programmes in global business, economics and business studies that allow you to gain the first step into the field of business and management. It offers the combination of business studies and a language of your choice that can make you to stand out among graduates with the additional language skill.
National University of Ireland Galway (NUI Galway)

National University of Ireland Galway ranks among the top 1% of universities in the world. Founded in 1845, its prestigious history spans almost two centuries. This university has earned international recognition as a research-led university with top quality teaching. In the school of Business, Public Policy and Law, National University of Ireland Galway offers degree in Accountancy, Marketing, Business Information System and Management that can help you to venture into the field of business.
University College Cork, Ireland

University College Cork (UCC) has been ranked as one of the leading universities in the world for sustainable social and economic impact. It is also ranked as top in the world for its work in assisting the UN goal of 'responsible consumption and production. It offers wide range of business related degrees that enables student to acquire the necessary skills to step into the world of business.
Dublin City University
Dublin City University integrate strategic Plan 2017-2022 as a road map to deliver promises to students. It is recognised nationally and internationally as a centre of academic excellence with over 16,000 students. Dublin City University has forged a reputation as Ireland's University of Enterprise, through its strong, active links with academic, research and industry partners both at home and overseas. In the school of Business, it offers the degree of Business Study, International Business and Marketing.